ASHRAE 62.2 Mechanical Ventilation Design & Installation
This Course is BPI Recognized for 4 CEU Credits &
Approved for 6 RESNET Rater PD Credits

For Ventilation System Installers, QC Inspectors and Program Administrators.

This course provides an in-depth understanding of how to size, choose, install, test and document a ventilation system to comply with the ASHRAE 62.2 Standard. It's everything you need to know, as well as the forms and spreadsheets you'll need in the field.
Course Package Includes:
5 modules of online self-paced multimedia training with video instructor (90 day access)
• Available 24/7 • Learn at your own pace • Review as often as you like
Infiltration Credit & Existing Homes Appendix
Study guide
Practice exam questions
Benefits of the Course
Many codes, standards and programs now require ventilation to comply with the ASHRAE 62.2 Standards. You will be able to install ventilation systems in compliance with the ASHRAE 62.2 Standards, as well as assess compliance from a quality control perspective.
You will be able to work with homeowners to improve their comfort and safety, and reduce their energy bills.
You will have the chance to apply components of the ASHRAE 62.2 Standard with actual examples, or even your own home!
Eligible for both BPI and RESNET CEUs.
Includes support materials for use in the field.
Save travel cost, time, and lost revenue with online multimedia training.
Who Should Take This Course?
Ventilation System Installers
BPI Envelope Specialists
QC Inspectors
Program Administrators
Anyone who wants an in-depth understanding of the ASHRAE 62.2 Standard and ventilation practices (Home inspectors, appraisers, HVAC contractors)
Those interested in a new career
Learning Objectives
Gain an understanding of the importance of residential, mechanical ventilation and be able to promote its use
You will be able to install ventilation systems in compliance with the ASHRAE 62.2 Standard.
You will be able to assess compliance to the Standard from a quality control perspective.
Gain exposure to different ventilation equipment choices
Be able to apply different control strategies, including intermittent operation
Come to appreciate the impacts of quality installation techniques and materials
Discover the most affordable and most effective solution to a ventilation problem
Discover inexpensive methods to measure CFM
Understand proper ventilation system documentation
Experience the elements of ASHRAE 62.2
Appreciate how ASHRAE 62.2 will change the role of BTLa/MVG
Learn to calculate ASHRAE 62.2 whole building and local exhaust fan CFM
Topics Covered:
Module 1 - Ventilation Fundamentals & Selling The System
Module 2 - ASHRAE 62.2 Standard, Evaluating the House & Whole Bldg Ventilation
Module 3 - Existing Buildings & Infiltration Credit
Module 4 - Sizing & Selecting Equipment; Design & Installation
Module 5 - System Testing, Controls & Instructions and Labeling
Learn From The Best!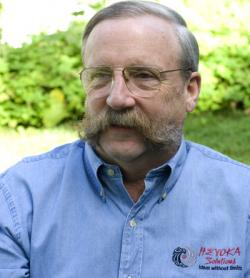 Your instructor, Paul Raymer, has helped write the ASHRAE 62.2 Standard for 10 years. With more than 35 years of experience working with ventilation, he literally wrote THE book on the subject, Residential Ventilation Handbook by Paul Raymer. He also chaired the residential ventilation team for the Vice President's National Standard Work Specifications.
How is Our Online Multimedia Training Better than Classroom Training?
No Travel Time & Expense

With online training there's no travel time or expense, no time away from your family, and no time away from work. The average company loses around $500/day for each employee missing work. Can you afford that?

Flexibility

Study when you want, where you want.

Learn at Your Own Speed

Our online training is self-paced, so you can learn at your own speed and review anything at any time. With classroom learning, the instructor may go too fast or too slow for you, and you don't get the chance to review until you're completely lost.

Skip Previously Completed Content

For future training, you can skip the modules you've already taken and spend your time learning the new material.

Consistency

Our online instructors never have a bad day, never fumble over an explanation, and never cancel class.

Help When You Need It

If you have questions, an instructor is just a phone call or email away! And our Frequently Asked Questions section has common questions asked by students.

Easy to Use

If you can send an email, you can use our online learning system.

Education Built for Adults

Our instructors have decades of experience teaching adults, and present the materials in multiple ways to help you understand and retain the information.

Earn Multiple Certifications at Once

Our training is built in modules, and completing the modules for one certification will often cover all or most of the modules for other certifications.

Lowest Price Guaranteed

With our Best Price Guarantee, you know you're getting the lowest possible price.

300% Iron-Clad Success & Satisfaction Guarantee

If you don't pass your certification exam, you can take the online course curriculum again until you pass. That's peace of mind that can also save you money! Learn more >>
Enjoy Our Flexible Training
Avoid course delays and cancellations
Start online training immediately
Schedule your exam when you're ready 

You're in Control
Complete your training on your own schedule, and take your exam when you want at a location near you. Start your online training immediately. No waiting around for classes to fill up, or for other students to dictate your training or exam schedule. Simply tell us when you're ready to take your exam and we'll schedule it within 14 business days at a location near you. Superior quality training at an unbeatable price - with complete flexibility!