HOW IS THE EMPIRE STATE BUILDING SAVING $4.4 MILLION PER YEAR WITH ENERGY EFFICIENCY?
Aug, 25 2022 10:08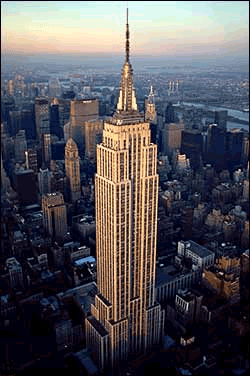 Edited in Augist 25, 2022
We all know that the Empire State Building is made of silver steel and grey concrete, but the building is getting greener and greener right before our very eyes.  That's because the Empire State Building has saved almost $5 million over the past couple of years in energy costs.
8 Areas for Energy Improvements
In 2009, the Building started a pretty broad retrofit project.  The focus of the project was eight specific improvement areas around core building infrastructure, common spaces and tenant suites.  
In the past few years, all 6,514 windows in the Empire State Building were refurbished, all radiators were insulated with new insulation, the chiller plant was retrofitted, the building got new management controls and new metering, and a web-based tenant energy management system was installed.  
$4.4 Million Savings Per Year
The energy efficiency of the Empire State Building has improved dramatically as these changes have been implemented.  In 2011, the building saved $2.4 million, beating its own energy-efficiency guarantee.  In 2012, the building beat its own guarantee again, and saved $2.3 million.  
And the work isn't finished.  When the project is complete, and as new tenants start using the more efficient work spaces, the building will save $4.4 million a year, which is close to a 40% reduction of energy use from pre-2009.
Energy Efficiency is Good for Business
This project isn't just good for the environment, and for the Empire State Building's energy bill, but it's also good for business.  Over the past couple of years, new tenants have been coming to the building because of the retrofit.  
New Tenants Looking for Green Office Space
Companies like LinkedIn, the Federal Deposit Insurance Corporation (FDIC) and Shutterstock all have sustainability values as part of their corporate mandate, and were looking for building space that would reflect those values.  The building is also more comfortable for employees, and lets the tenant monitor and control their own energy use.  It's a win-win all around.
Green Values, Millions in Savings
As more consumers become invested in energy-efficiency, more companies will be looking for "green" spaces, not just to save themselves money, but to live the same values that their customers do.  The Empire State Building saw the cost-saving and business-building opportunity, and has capitalized on it in a big way.
New Opportunities
There are thousands of commercial buildings across the nation that could use the Empire State Building as a model to reduce energy costs and create new business opportunities. You can capitalize in this trend with Commercial Lighting Assessor Training or Commercial Energy Auditor Training. If you'd like to discuss the opportunities available to you, call Green Training USA for a free career consultation at 1-518-1877.