BPI Continuing Education Units (CEUs)
The
EASY

Way To Earn BPI CEU Credits!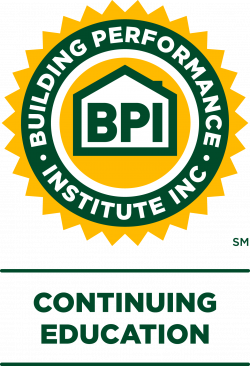 All CEU Packages are BPI-Approved for CEU Credit

● No Studying! No Exams! No Risk! By earning 30 CEUs you are exempt from BPI's written recertification exams. Do you really want to study, pay for, and risk failing your BPI exams?

● Watch Courses on YOUR Schedule. Access your course 24x7 from anywhere you have internet - even on your phone!

● Affordable, Engaging Online Courses. You'll learn lots of great stuff you can use in the field, and your course(s) may qualify you for additional certifications or continuing education credits (for RESNET, NATE, etc). All for less than you'd pay to take your BPI exams!

...We'll even upload your CEU credits to your BPI Portal within 48 hours of course completion. It's that easy!

Choose Your CEU Package
How many credits do you need?
Need a different number of credits?
Call us to create a custom package. 1-800-518-1877
Student Testimonials
"I find using Green Training USA a convenient way to get my renewal CEUs for my BPI certifications. I have dealt with both Kelly and Jane and found them both easy to deal with and willing to do anything within reason to make your training experience as easy and enjoyable as possible. The fact that I can do this training at my leisure is a big plus. In my opinion, this is the easiest and most convenient way to get your CEUs. I take the courses online and the CEUs magically show up on the BPI CEU Portal. This is as good as it gets for renewal CEUs." - Sam Bagwell, CEO, Confirm Green
"Green Training USA made completing the CEUs I needed for my certification simple and convenient. I was able to pass the practice exam on the first try, and they uploaded my CEUs to the BPI portal (almost) immediately. As a busy manager, it was really awesome to have the convenience and quality training on my schedule. Great customer service, thank you!" - Jamie Wine, Executive Director, Energy Wise Alliance, New Orleans, LA
"The experience with the online training was great. It allowed me to watch when I had the time, and the information was presented clearly and concisely. The study guides were very helpful, not only to refresh the information but also to learn a few things as well. Taking this course was much more relaxed than studying for the BPI exams and I never felt any anxiety or stress that I sometimes get when taking a classroom test. I would definitely recommend this course to others. Thanks!" - Gamal Marquette, Energy Auditor, Global Dwelling