Special Offers for Students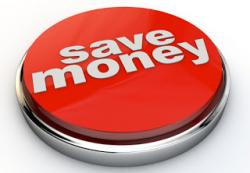 At Green Training USA we provide the best training in the business. And we don't stop there. We've negotiated these special deals exclusively for our students.
---
Vent Cap Systems
Reusable system that helps seal ducted HVAC systems in minutes
- without the waste or expense of disposable tapes.
Green Training USA students get $50 off & free shipping. 
100% Reusable System
Adhesive Free - Won't Peel Paint or Wallpaper
Seal From The Ground
Faster / Cheaper / Eco-Friendly
Lower Costs & Liability
Works Safely on Popcorn & Heavily Textured Walls & Ceilings
---
Retrotec Blower Door Bundle
US5100 Blower Door System (WiFi Enabled)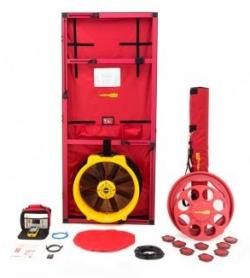 Everything you'll need to test on a wide range of buildings. Complete your first test in minutes with the easy to follow Quick Guide.
Retrotec's most popular blower door system for residential & small commercial
Complete package with gauge, fan, 6 ranges, cloth door panel, connectors, software, and a 10-year warranty on the fan shell.
Fully automatic and manual operation. Quick-connect frame with extra crossbar for stability and gauge mounting.
DM32 Smart Gauge with Wi-Fi enables you to run your test from anywhere in the house. Capable of getting updates from the Internet. See video below for all the features.
Student Price: $3145.50 Retail: $3495. You Save: $349.50
Call 1-855-738-7683 to order - or click the green button below for the order form. Ask for the Green Training USA Discount. (Discounted prices exclusive for Green Training USA students.)
Prices subject to change without notice
---
Retrotec DM 32 Smart Gauge
Loaded with many handy features - including WiFi. Watch the video below for all the exciting details.
---
Retrotec DucTester Bundle
US342 Ductester System (WiFi Enabled) includes DM32 Smart Gauge with WiFi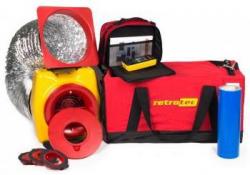 The complete package to start testing immediately.
Includes 3 flow ranges. Test the leakiest to the tightest duct systems, as low as 10 CFM with optional ranges down to an amazing 0.02 CFM.
It's all in there - DM32 Digital Gauge with Wi-Fi, guage case, grill Mask, tubing kit, 7 ft umbilical, and custom carrying case.
Free reporting software.
10 year warranty.
Includes an online "Manufacturer's Certification/Training Course"
Student Price: $2515.50. Retail: $2795. You Save: $279.50
Call 1-855-738-7683 to order - or click the green button below for the order form. Ask for the Green Training USA Discount. (Discounted prices exclusive for Green Training USA students.)
Prices subject to change without notice
---
Retrotec Hard Fan Case
Custom designed to hold Retrotec fans (Model 1000/3000/5000/6000)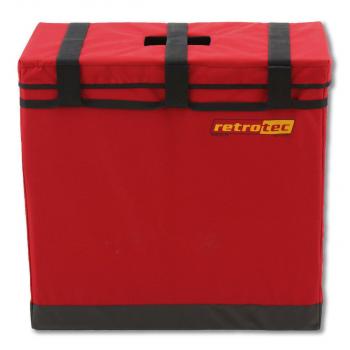 Sturdy, hard-sided construction protects the calibrated fan in transit, and keeps it clean while in storage. Fits the fan securely and closes with Velcro straps which double as handles.
The hard top and convenient height make the case usable as a jobsite table for laptops and gauges.
Made from rugged, long-wearing but lightweight cordura material.
Student Price: $225. Retail: $250. You Save: $25
Call 1-855-738-7683 to order - or click the green button below for the order form. Ask for the Green Training USA Discount. (Discounted prices exclusive for Green Training USA students.)
Prices subject to change without notice
---
Retrotec Quick Connect Collar
Fits Model 300 DucTester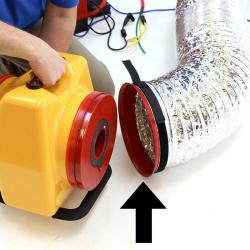 Saves set-up time and protects your flex from wear and leaks.
Attaches permanently to your flex duct so you can set up and break down with ease. 
Change from depressurization to pressurization in 3 or 4 seconds instead of minutes.
Student Price: $40.50 Retail: $45. You Save: $4.50
Call 1-855-738-7683 to order - or click the green button below for the order form. Ask for the Green Training USA Discount. (Discounted prices exclusive for Green Training USA students.)
Prices subject to change without notice
---
Retrotec Grill Mask Tape
Blue - Case of 4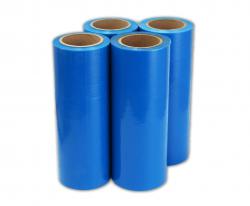 Ideal for covering holes and duct registers when testing enclosures, houses, or duct work.
Sticks firmly and creates an effective air seal - but won't peel paint when removed.
Self-adhesive grill mask comes in an easy-to-use perforated roll.
Student Price: $171. Retail: $190. You Save: $19
Call 1-855-738-7683 to order - or click the green button below for the order form. Ask for the Green Training USA Discount. (Discounted prices exclusive for Green Training USA students.)
Prices subject to change without notice
---
Retrotec Small Pressure Pan
For use on duct registers on walls, floors or ceilings
13 x 15 x 4.5 inches.
Used for covering registers and determining the location of leaks in duct work.
Optional velcro mounted swivel base for the pressure pan is threaded to accept a standard broom handle to hold the pressure pan on the ceiling.
Student Price: $63. Retail: $70. You Save: $7
Call 1-855-738-7683 to order - or click the green button below for the order form. Ask for the Green Training USA Discount. (Discounted prices exclusive for Green Training USA students.)
Prices subject to change without notice