Green Jobs Putting People To Work
Jul, 31 2013 03:07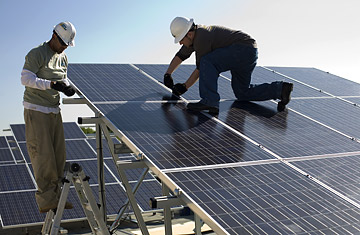 If you ask someone what they think a "green" job is, or what a "clean" job is, they probably won't have a clue.  They'll figure it has something to do with the environment, but they won't have any job titles in mind.  They may guess that you plant trees or something to that effect, but that's pretty much it. But in fact, green jobs are so much more than that. And they are growing.
What Green Jobs Are Out There?
The federal Bureau of Labor Statistics defines  "green" jobs as "jobs in businesses that produce goods or provide services that benefit the environment or conserve natural resources".  
So what green jobs are out there, exactly?  Well, there are lots. Jobs like installers and project managers to oversee construction projects for everything from wind turbines to commercial building retrofits.  There are green energy jobs for people who can design and operate photovoltaic systems.  
Green Job Growth In Residential Energy Savings
One of the biggest areas of job growth is in residential energy savings.  This is one of the biggest because there are so many areas involved. Things like:
Why so many jobs in the residential market?  Because everyone lives in a home, and no one wants to pay more than they have to for their energy bills.  People are very interested in energy efficiency.  And folks like to know that while they're saving money, they're doing something good for the environment at the same time.  
Green Jobs In The United States
Between January and April of 2013, Ecotech Institute's Clean Job Index listed more than 8000 jobs just in the solar industry.  Ecotech found that since August 2012, 14,000 new solar jobs have been added – that's a growth rate of 13.2%!
And the green jobs aren't located in just one or two spots.  Ecotech's Index found over 700,000 clean jobs posted across the United States in the first quarter of 2013, including Alabama, Iowa, Michigan, Vermont and so many more all across the country.
Green Jobs Are on the Rise  
Make sure these opportunities don't pass you by!  Check out www.GreenTrainingUSA.com to find out what green job training is waiting for you, or call 1-800-518-1877 to speak with a Green Career Advisor.